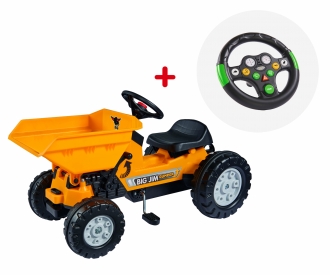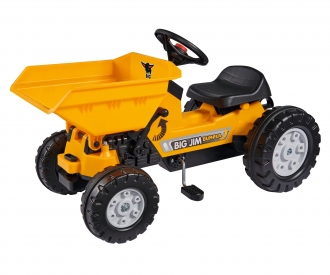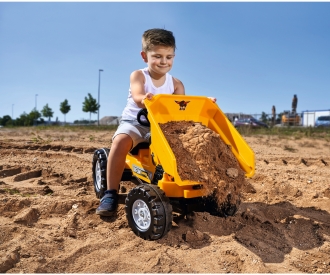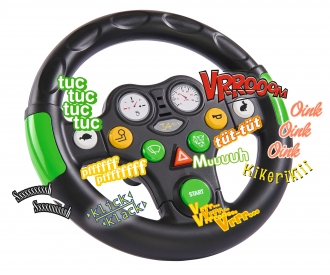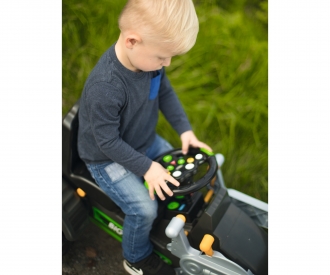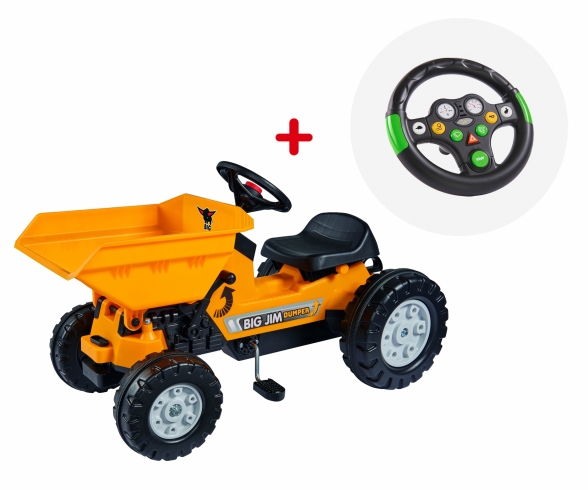 New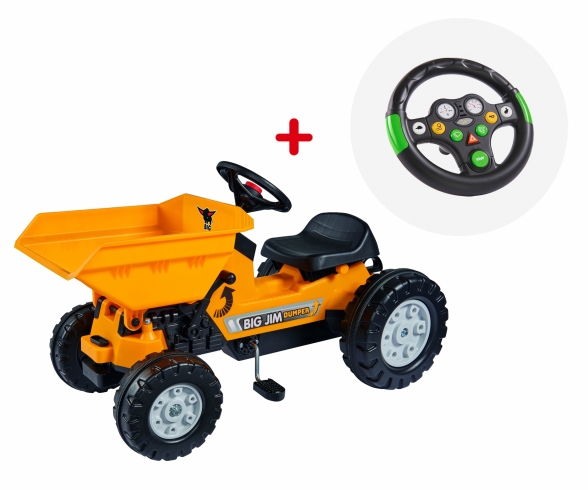 €140.99 (-22%)
€109.99
incl. VAT
free shipping
(within the EU)
Quantity:
1
2
3
4
5
6
7
8
9
10
11
12
Delivery time 1-3 working days within Germany
Product bundles consisting of: BIG Jim Dumper Childrens Tractor | BIG Tractor Sound Wheel
Article number: 800056568
Product: BIG Jim Dumper Childrens Tractor

The BIG Jim Dumper is equipped with so many realistic functions that it leaves nothing to be desired and children can feel like professional dumper truck drivers.

The high-quality, true-to-detail children's dumper truck is suitable for ages three and up and has a maintenance-friendly, dirt- and dust-protected precision chain drive that makes driving easy and saves energy. Especially for younger children, this makes it easy to start off, even on difficult terrain. Should the chain ever lose tension, it can be tightened in a few easy steps thanks to the integrated eccentric. The high-quality premium pinion steering makes it easy to steer the BIG Jim Dumper. One trailer coupling each at the front and rear, which is compatible with all BIG tractor trailers, completes the high-quality equipment.

A special highlight for the children is the easy-to-operate tipping trough with a loading volume of a full six litres. The tipping trough is fixed with the help of a simple, child-friendly lever function and the children tip it out by hand. The 3-spoke steering wheel with mechanical horn complete the playful, cheerful yellow vehicle.

Article size assembled (L x W x H): 94 x 46 x 54 cm
Article number: 800056488
Product: BIG Tractor Sound Wheel

There is hardly anything more fascinating for children than the world of grown-ups. This is why young tractor fans aged three and upwards will be thrilled by the BIG Tractor Sound Wheel with eight original sounds, which offers so much play appeal.

The splash-proof BIG Tractor Sound Wheel is the perfect addition to the BIG children's tractors and all the BIG Bobby Cars since 2010. It can be attached instead of the standard steering wheel with a just a few simple operations.

Eight different, authentic engine and farm sounds make play even more realistic and so tremendous fun. Children can choose between starter motor, engine sound at a faster or slower speed, horn, hydraulics, windscreen wipers, hazard lights and animal sounds. Child-friendly motifs such as a tortoise for slow driving or a hare for fast driving make the choice, literally, child's play. Pressing the buttons with animal heads produces the sounds of a hen, cow or pig.

Dimensions assembled (L x W x H): 19,3 x 19,3 x 10,5 cm

Warning! Not suitable for children under 3 years due to small parts. Choking hazard!