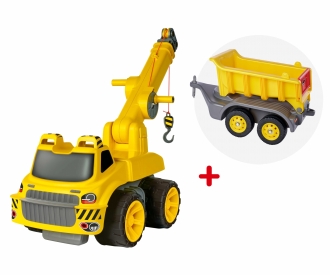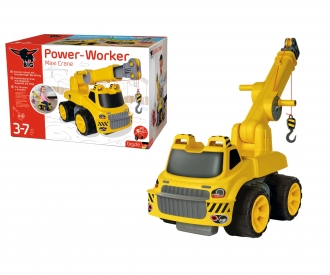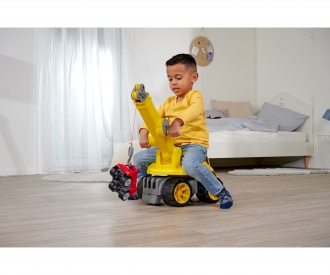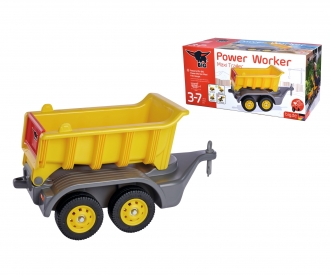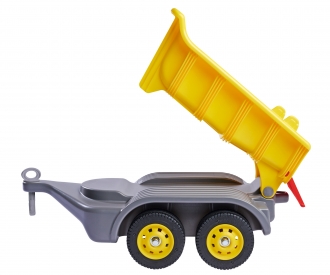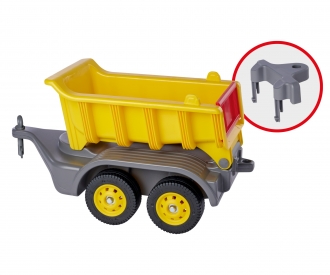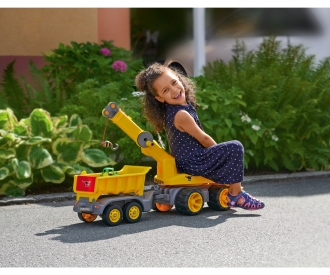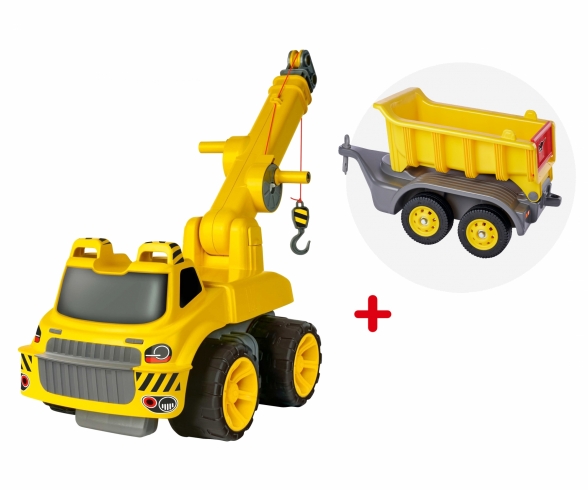 New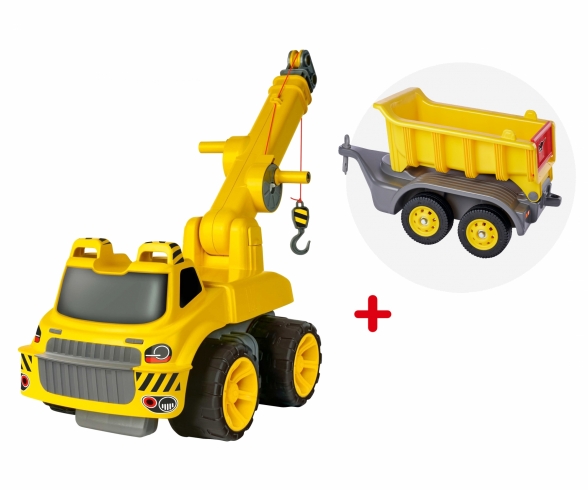 €99.98 (-22%)
€77.99
incl. VAT
free shipping
(within the EU)
only 5 pieces left in stock, Delivery time 1-3 working days within Germany
Product bundles consisting of: BIG Power Worker Maxi Crane | BIG Power Worker Maxi Trailer with coupling
Article number: 800055816
Product: BIG Power Worker Maxi Crane

The popular BIG Power Workers are getting reinforcements! The new, playful vehicle in the powerful MAXI format is the ideal addition for small play construction sites, where from now on building materials can not only be shovelled and dredged out of the way, but also easily lifted.
The essential feature of the BIG Power Worker Maxi Crane is the buffalo-strong cable winch, which can be used to lift objects with a pulling force of up to 450g without any problems. The winch is part of the easy-to-use crane arm, which can be folded in & out and rotated 360° around its own axis. The anti-tipper at the front and rear ensures the necessary safety at the workplace.
The two grab handles on the driver's cab ensure comfortable driving and save the hard-working construction worker's energy. The smooth-running metal axles and the high-quality tyres made of soft, non-marking plastic also guarantee the best driving characteristics.
The BIG Power Worker Maxi Crane is ideal for small construction sites on the playground, in the garden and in the children's room. Can we do it? Jo, we can do it!

Item size assembled (L x W x H): 47 x 32 x 36 cm
Article number: 800054817
Product: BIG Power Worker Maxi Trailer with coupling

The new, playful accessory in the BIG Power Worker Maxi line is the ideal addition to the existing BIG Power Worker Maxi construction vehicles.
The new trailer can be easily attached to the BIG Power Worker Maxi Truck, Maxi Digger and Maxi Crane thanks to the included trailer coupling and offers kids additional storage space for sand toys and construction site leftovers.
Thanks to the high-quality tyres made of softer, non-staining plastic, the trailer can also be used indoors without any problems.
As with all other BIG Power Workers, the vehicle can be cleaned quickly and without leaving any residue.

Warning! Not suitable for children under 3 years due to small parts. Choking hazard!