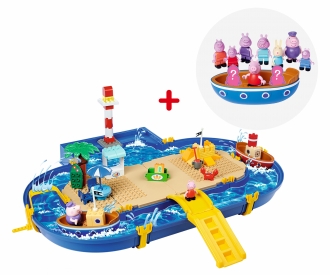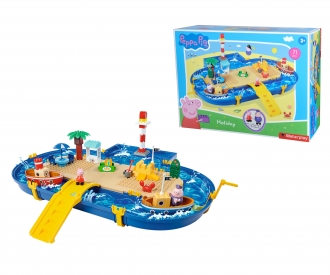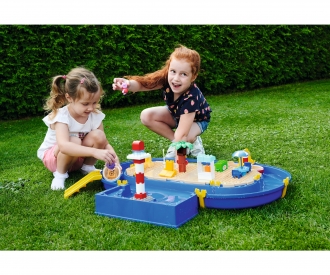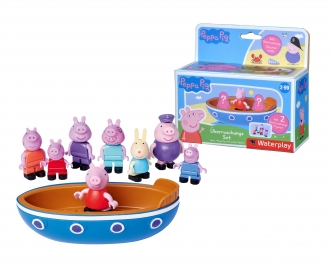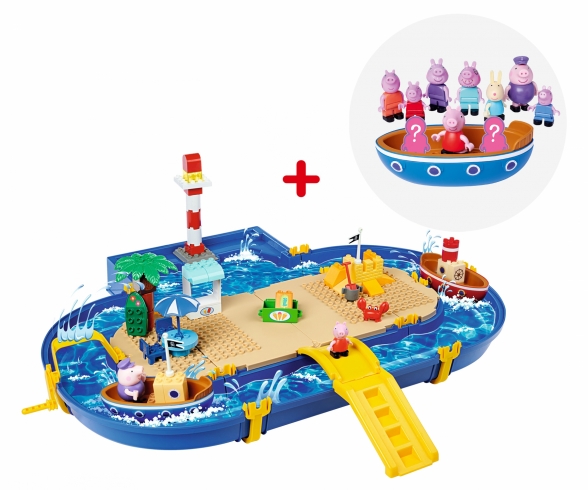 New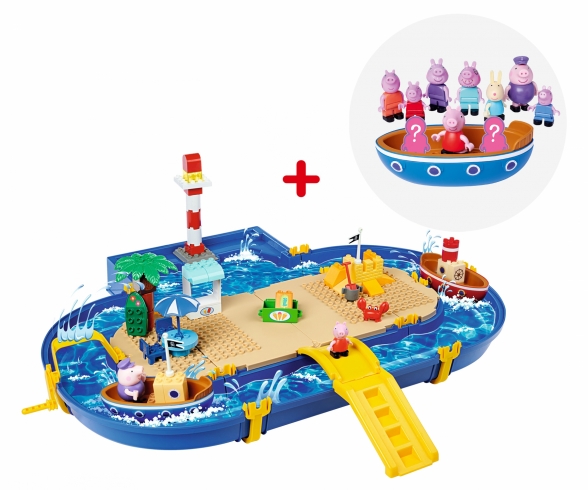 Quantity:
1
2
3
4
5
6
7
8
9
10
11
12
13
14
15
16
17
18
19
20
21
22
23
24
25
26
27
28
29
30
Delivery time 1-3 working days within Germany
Product bundles consisting of: BIG Waterplay Peppa Pig Holiday Waterway | BIG Waterplay Peppa Pig surprise boat set
Article number: 800055140
Product: BIG Waterplay Peppa Pig Holiday Waterway

There's a lot going on in the BIG Waterplay Set Peppa Pig Holiday. With two boats from the Peppa Pig series, as well as the 3 play figures Peppa, Grandpa and Crab, the fun adventures of Peppa and her friends can be replayed and reinvented. The set also features a large game board to build on with 47 different game pieces. This can be used to conjure up a beautiful vacation environment with a beach, lighthouse, ice cream parlor and much more.

The large waterway with a harbor basin and wide channels made of UV-resistant plastic will be the next adventure of Peppa and her grandfather. The Peppa Pig Holiday Set is easy to assemble and features perfectly designed seals for a waterproof play experience including a water crank.
With the educational play system from BIG-Waterplay, children from the age of 3 gain their first experience with water currents and determining direction and develop creativity and imagination through play.
The BIG-Waterplay set Peppa Pig Holiday is the perfect combination of water fun with a large play world for building. Ideal for playing in the children's room (as a building block set) or in the garden with water.

BIG-Bloxx are suitable for children aged 18 months to 5 years and are compatible with familiar building blocks. Due to the high-quality plastic, the building blocks can be easily cleaned.

Dimensions assembled (L x W x H): 87 x 85 x 30 cm
Article number: 800055142
Product: BIG Waterplay Peppa Pig surprise boat set

Peppa Pig (in German: Peppa Wutz) is a lovingly made British children's animated series known for entertaining learning and lots of fun for the little ones.
The little pig girl Peppa is particularly curious and playful. She lives together with mummy and daddy and her little brother Schorsch in a house on a hill. From there, Peppa explores the surroundings together with her friends - because everywhere there is something exciting to discover!
With the BIG Waterplay Peppa Pig Surprise Boat Set, Peppa can now explore great water landscapes from BIG Waterplay with her loved ones!
Included in the set are a boat and detailed figures from the series, one of which is the lively pig girl Peppa. You only find out which character it is when you unpack the set. No matter who it will be, exciting adventures are on the agenda!
The small extension to the popular BIG Waterplay water rides offers lots of fun for children aged 2 and over. The colourful, detailed parts and the popular Peppa Pig theme ensure high play value.
The building blocks are compatible with well-known toys. The high-quality plastic makes them easy to clean.

Article size assembled (L x W x H): 18 x 8 x 8 cm
Surprise package with a boat and 3 figures
Peppa Pig + 2 other figures, randomly assorted

Warning! Not suitable for children under 3 years due to small parts. Choking hazard!