---
Sort by:
Top sellers
New
Price ascending
Price descending
Filter
---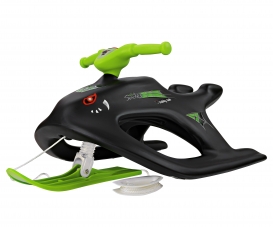 Sleds
BIG-Bobby-Bob Wild Spider
800056937
soon available again
From Winter 2009 onwards, it's going to be incredibly cool on the snow slopes. That's because the BIG-Bobby-Bob Wild Spider in stylish black with awesome bright green stickers will be under starter's orders. Perfect ergonomics and a child-friendly design, combined with the very latest style features are guaranteed to make the BIG-Bobby-Bob Wild Spider a huge star on all mogul pistes and sledging slopes. What makes this high-quality "snow mobile" manufactured from cold-resistant and UV-resistant plastic really impressive is its many exciting features which offer tremendous play value. The superior suspension in the steering axle smooths out unevenness. The integrated horn in the ergonomically profiled handlebars provides additional safety. Rustproof, removable metal runners ensure track stability and protect against wear. Just like the BIG-Bobby-Car, the BIG-Bobby-Bob has a knee recess which in addition to the normal sitting position, allows other driving positions to be adopted when little drivers depart on their exciting journey.  
More