Beware of Sven the Terrible! He makes use of his fast dragon boat to attack the Vikings or rob them of their treasure.

The BIG Waterplay Vicky "Dragon Boat Sven" is based on the original boat from the popular animated TV series Vicky the Viking. It looks fantastic and is suitable for children aged 3 and above. Its shape and size allow it to fit perfectly in all BIG Waterplay tracks. Dragon Boat Sven is also an ideal toy for bathtubs, paddling pools or the beach.

The dragon boat is made in Germany and includes a Sven figure. The buildable deck of the boat is compatible with Duplo building bricks. The large sail can be removed.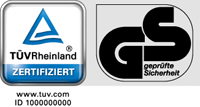 Dimensions assembled (L x W x H): 20 x 8 x 9 cm
Product weight: 140 g
BIG-Waterplay Dragon Boat "Sven"
Article number: 800055129
Age recommendation: 3 - 7 years