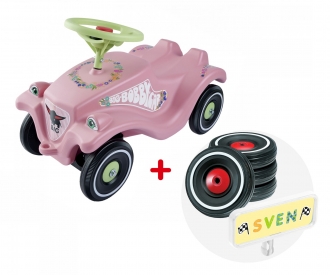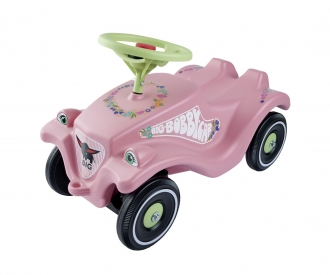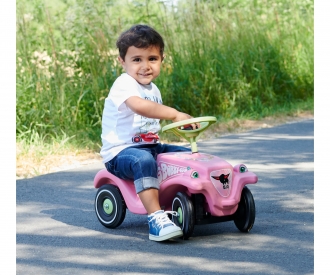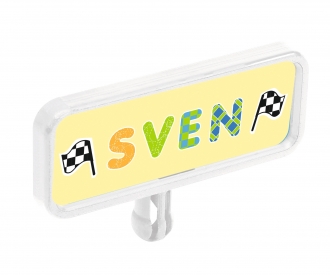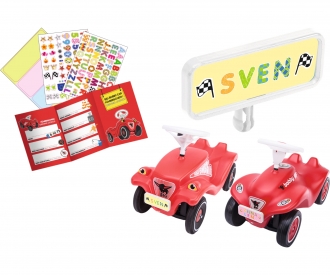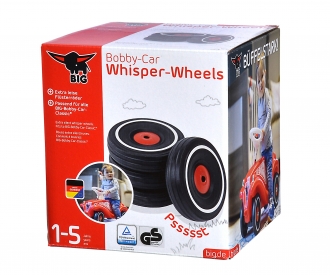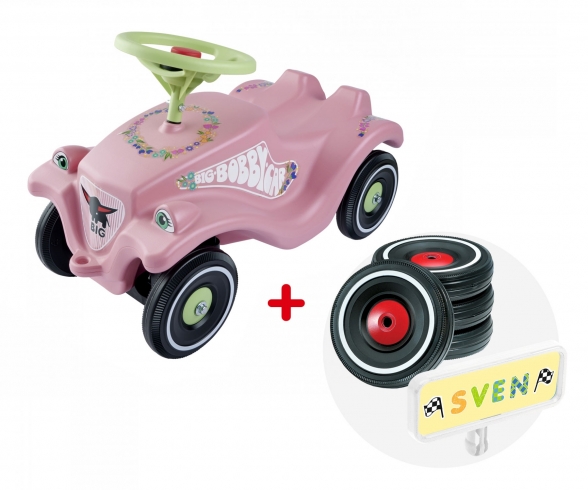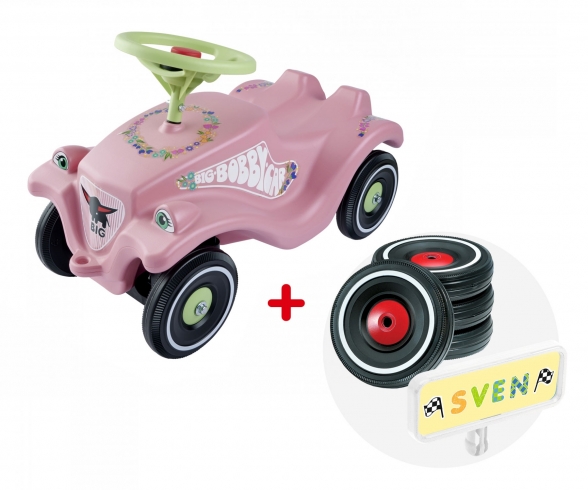 Quantity:
1
2
3
4
5
6
7
8
9
10
11
12
13
14
15
16
17
18
19
20
21
22
23
24
25
26
27
28
29
30
Delivery time 1-3 working days within Germany
Product bundles consisting of: BIG Bobby Car Classic Flower | BIG Bobby Car My Own Plate | BIG Bobby Car Whisper Wheels
Article number: 800056110
Product: BIG Bobby Car Classic Flower

The BIG Bobby Car Classic Flower is the perfect vehicle for all little learner drivers age 12 months and over who love soft colours and cute design. With its light pink chassis combined with pastel green wheel rims and steering wheel, not to mention its fun flower patterns, this BIG Bobby Car will not just appeal to girls thanks to its timeless elegance.

The BIG Bobby Car Classic is legendary in its design and unbeatable when it comes to quality. The tried-and-tested chassis on this popular children's car, which has remained the same for decades, is designed to perfectly meet the ergonomic requirements of junior drivers. Four sturdy, abrasion-resistant tyres ensure great road handling. The easy-to-hold safety steering wheel is fitted with a mechanical horn. Meanwhile, the BIG Bobby Car's stepless Ackermann steering gives the vehicle a small turning circle. A trailer coupling at the front and rear, as well as a knee recess to make sure taller children can also have a go at driving, add to the play-enhancing features.
Article number: 800056486
Product: BIG Bobby Car My Own Plate

Anything that's compulsory for grown-ups' cars should be part of the smaller favourite model, of course: with the BIG Bobby Car My Own Plate, proud owners from 12 months of age can design a number plate with their parents and, if they want to, even create their individual design online.

The set consists of a plastic plate with a transparent protective cover and assorted sheets of stickers. The different backgrounds and colourfully patterned letters, numbers and amusing symbols make it easy to create highly personalized number plates. If you enjoy creating designs on the computer, you can develop your own designs for the BIG number plate by using the new online configurator. There is a variety of coloured fonts and lots of amusing symbols available to choose from here. And an easyto-follow step-by-step guide allows even inexperienced computer users to create their own number plate artworks and print them out at home.

Once the number plate is finished, it can be attached to the trailer coupling of the BIG Bobby Car (Classic, New or NEXT) either at the front or the rear. As a special extra, the new set contains a BIG Bobby Car driver's licence.
Article number: 800001260
Product: BIG Bobby Car Whisper Wheels

Kids love the "roaring engine noise" that the wheels of the BIG-Bobby-Car make when they're driving over asphalt. Many parents would perhaps prefer something a little quieter. The BIG-Whisper-Wheels wheel set is the ideal alternative and can be retrofitted to the BIG-Bobby-Car-Classic. The special rubber compound ensures significantly quieter motoring in the garden and nursery.

The wheel set can be fitted to all BIG-Bobby-Car-Classic (up from build year 2000) using the fitting tool supplied. To do this, the hat clips must be removed from the wheels already fitted. The set also includes attachment clips and simple fitting instructions.