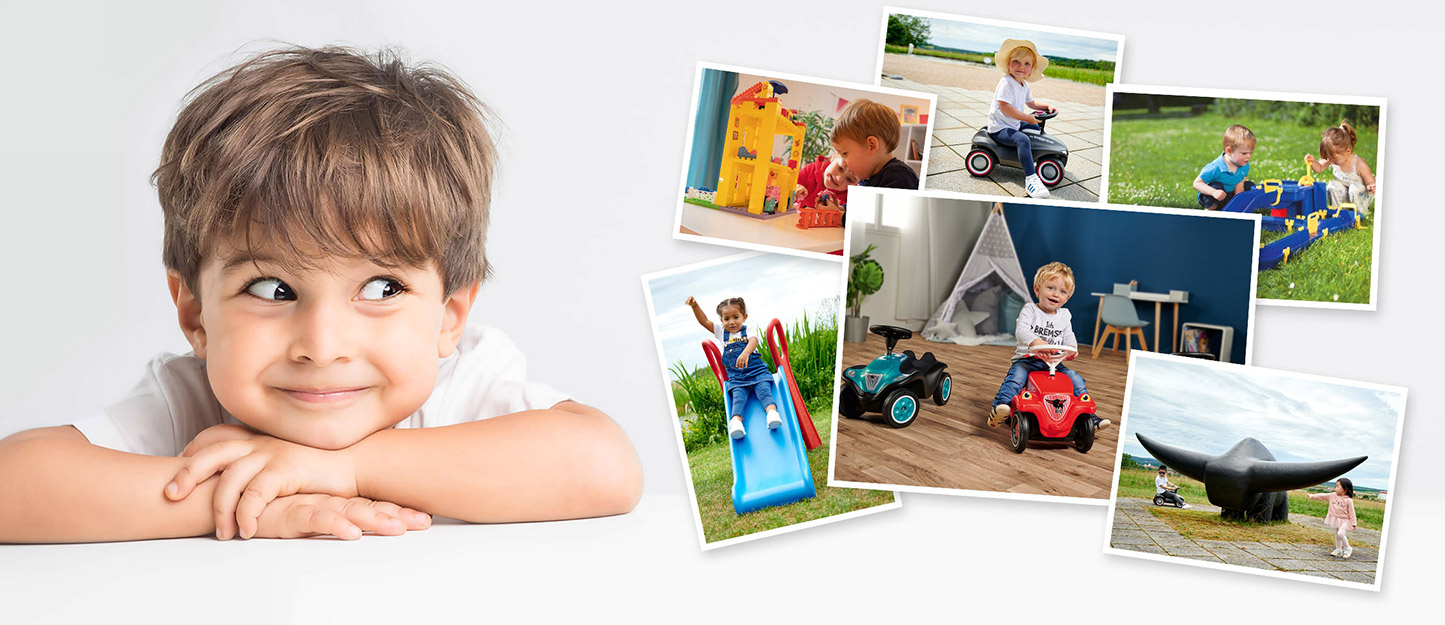 Quality and safety Made in Germany
BIG-SPIELWARENFABRIK GmbH & Co. KG is one of Germany's major toy producers and an internationally leading manufacturer of high-quality plastic toys. The world's most successful ride-on, the BIG BOBBY CAR, has become one of the strongest toy brands in Germany.
Brand philosophy
BIG – strong as a buffalo
In short, the BIG brand represents high quality and child-friendly design. The company logo - the BIG buffalo - is symbolic of BIG products: strong, robust, resistant. Quality and safety are the top priority in all that we do.
Extensive experience in child-related products and plastics production ensures BIG product developers know exactly what is being asked of them. All our toys are suitable for each respective age group and ergonomically designed, while making a positive contribution to a child's development.
BIG stands for:
Outstanding quality and durability
Only materials that pose no health risk whatsoever are used for the products manufactured with the BIG buffalo symbol. Through the use of UV stabilisers, we offer true quality that lasts for years.
Perfect safety
At BIG, safety is paramount from the outset. State-of-the-art production techniques coupled with innovative design solutions guarantee maximum stability and safety. In addition, BIG products are tested by TÜV and other trusted and credible test institutes.
Age appropriate toys
We make sure our toys are best suited to the respective stages of development, while contributing to a child's healthy development and guaranteeing maximum fun through age appropriate activities.
Environmentally friendly production
We help protect the environment by promoting recycling and the use of high quality materials to manufacture robust products. We are committed to environmentally-friendly and energy-efficient production.
Show more
Show less
History
THE BIG STORY
Founding of the Johann Höfler Metallspielwarenfabrik
Graduate engineer Ernst A. Bettag takes over Fürth-based metal working factory Johann Höfler. 1.2 million of his first metal car, "Racing Car", are sold within a year.
Bettag switches to plastic and invents ride-on vehicles.
The company is renamed BIG-Spielwarenfabrik.
The buffalo, the heraldic animal of the brand, adorns a product for the first time.
The first BIG-BOBBY-CAR is presented at the International Toy Fair in Nuremberg.
A phenomenal 281,581 BIG dominos fall down in a row in front of a live camera – a record that sets a sales wave in motion. In the same year, the "Peppermint Hula" rekindles Hula Hoop fever.
Children's tractor BIG John is the first pedal vehicle in the world with a realistically working front shovel.
A fire destroys the BIG factory in Fürth.
The new BIG production headquarters are built within just 16 months in Burghaslach.
Ernst A. Bettag passes away.
The SIMBA DICKIE GROUP takes over BIG-Spielwarenfabrik. CEO Michael Sieber invests around ten million euros in Burghaslach in the years to follow.
The range now comprises around 200 BIG toys.
BIG launches colorful construction site vehicles and emergency vehicles with the line BIG-POWER-WORKER and extended the line 2014 with the BIG Maxi trucks, large play vehicles in original construction design. Robust quality specially designed for the ergonomics of small children's hands.
Show more
Schließen
Production
Made in Germany
The BIG production plant in Burghaslach, located next to the A3 motorway between Würzburg and Nuremberg: Covering 320,000 square metres in total, it is home to one of the most modern toy factories in Europe.
The toys are produced using both blow moulding and injection moulding processes. We operate on a three shift system. More than one million BIG products leave our premises each year.
Quality
High quality and safety from the outset
BIG products are fully tested both in-house and by external organisations before they reach the marketplace. As a result of this, only the best quality and safe toy products are allowed to leave our factory.
The labels and safety marks of independent institutes as well as our own logos provide reassurance about the high level of quality and safety. Below you will find a brief overview with information about the most important awards and quality labels in the toy sector and at BIG.

By usage of masterbatch with high UV-stability and optimal colour fastness the BIG-products are solid and unfading even after long insolation. On low UV-stability the colour gets quickly fading and the plastic material gets crumbly and can crack. If the BIG products will not be used for longer time we recommend to cover the items or store them inside to protect them against fading and material damages by strong solar radiation which cannot be avoided in the long run.

The CE-Mark (Communauté Européenne) certifies that a product conforms to the minimum requirements of the respective EC Diriectives. All manufacturers are obliged to place the CE Mark on all products which fall within the jurisiction of the EC-Directives (e.g. toys).
For more information see
www.lga.de

GS stands for "geprüfte Sicherheit", or tested for safety, and the GS mark is a voluntary mark of safety recognised far beyond Germany. In the field of consumer and workplace protection, it is intended to be a guarantee that technical requirements for safety have been met, and that they are tested and regularly monitored by an independent institution (an authorised body, such as LGA QualiTest GmbH). The German Equipment and Product Safety Act lays down how the award is to be made.
For more information see
www.tuv.com/de/deutschland/home.jsp

The "spiel gut Arbeitsausschuß Kinderspiel und Spielzeug e.V." is a non-profit consumer counseling specialized on toys and games. It informs parents, educators, manufacturers and all other persons and institutions being engaged with children and playthings. The test of toys effects on the initiative of the task force.
For more information see
www.spielgut.de

For more than 20 years the ÖKO-TEST-PUBLISHER tests products on health risks, their benefit as well as their compatibility of environment. The test results get republished in the magazins of the plublisher.
For more information see
www.oekotest.de

"The golden Rocking Horse/Das Goldene Schaukelpferd" of the magazin Familie&Co stands for toys, which are especially sophisticated, educational reasonable, suitable for children and fancy. It is the only toy award within the German speaking regions directly selected by consumers.
For more informaton see
www.familie.de

The MOMMY Award is an annual people's choice award organised by the renowned internet community NetMoms.de. This prize is awarded to particularly family-friendly products and brands. Mums are encouraged to put forward their favourite products and services at NetMoms.de. Community members then vote for the best products and brands for children and families.
Show more
Show less
About the group