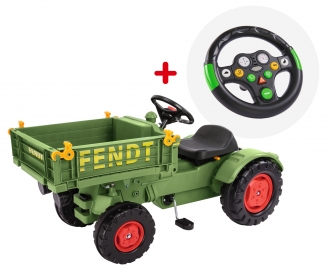 Product bundle consisting of: Fendt Tool Carrier Childrens Tractor / BIG Tractor Sound Wheel
Article number: 800056552
Product: Fendt Tool Carrier Childrens Tractor

Lovers of this historic model will be delighted with the lovingly designed Fendt implement carrier nostalgia tractor from BIG, the manufacturer of the well-known BIG Bobby Car. Faithfully recreated in detail, the classic "Fendt GT" is available for children aged three and over. This implement carrier is a special vehicle with the loading area mounted in front of the driver's seat. There is plenty of room for small and large loads on the large loading area. For loading and unloading, the drop sides can be folded down and closed as desired.

Thanks to the integrated precision chain drive, the tractor can be driven with little power and is therefore easy to drive even for small children. Child-friendly pedals ensure safe driving fun. The toothed pinion steering enables easy and stepless steering of the tractor. In addition, the chain can be easily retightened if necessary thanks to the integrated eccentric. To ensure that children have fun with the tractor for a long time, the seat can be adjusted to the respective leg length of the driver in three stages. A trailer coupling at the front and at the back provide additional playing fun. Suitable for ages 3 to 5 years and a body height of 95 cm to 115 cm.

The Fendt implement carrier is made from high-quality materials in the modern BIG factory in Germany.
Article number: 800056488
Product: BIG Tractor Sound Wheel

There is hardly anything more fascinating for children than the world of grown-ups. This is why young tractor fans aged three and upwards will be thrilled by the BIG Tractor Sound Wheel with eight original sounds, which offers so much play appeal.

The splash-proof BIG Tractor Sound Wheel is the perfect addition to the BIG children's tractors and all the BIG Bobby Cars since 2010. It can be attached instead of the standard steering wheel with a just a few simple operations.

Eight different, authentic engine and farm sounds make play even more realistic and so tremendous fun. Children can choose between starter motor, engine sound at a faster or slower speed, horn, hydraulics, windscreen wipers, hazard lights and animal sounds. Child-friendly motifs such as a tortoise for slow driving or a hare for fast driving make the choice, literally, child's play. Pressing the buttons with animal heads produces the sounds of a hen, cow or pig.

Warning! Not suitable for children under 3 years due to small parts. Choking hazard!
Article number: 800056552
Product: Fendt Tool Carrier Childrens Tractor
Article size assembled (L x W x H): 102 x 46 x 54 cm
3-fold adjustable seat
Loading trough with folding drop sides
Load capacity: 50 kg
Article number: 800056488
Product: BIG Tractor Sound Wheel
Dimensions assembled (L x W x H): 19,3 x 19,3 x 10,5 cm
Product weight: 450 g
Suitable for all BIG tractors as well as BIG Bobby Cars (New + Classic) from year of manufacture 2010