Exclusive driving experience with modern LED technology To mark the 45th birthday of the BIG Bobby Car, BIG is about to give children's ride-ons a brand new look. A combination of experience, know-how and passion for high quality toys has resulted in an exclusive small car that offers excellent ride comfort and amazing technology. The BIG Bobby Car Next meets all the demands of budding racing drivers aged 12 months and up and comes as standard with double LED headlights, a soft foam seat and an electronic horn.
This top quality ride-on car has a particularly striking effect thanks to its stylish anthracite and red design. The streamlined shape of the BIG New Bobby Car has been integrated just like the popular knee recess to make sure the car is a big hit with older children, too. A particular highlight is the highly detailed double headlights with state-of-the-art LED technology. The dashboard contains a touch sensor that can be used to switch the lights on and off. A built-in timer means the lights switch off automatically after ten minutes, so you don't need to worry if the young driver forgets to turn them off after a journey. All the electronic modules are integrated in a splash water-proof plastic casing.
The removable and washable soft seat with self-gripping fasteners simply adds to the driving comfort. A cutting-edge steering wheel, boasting an electronic horn, starter and direct steering, ensures safe driving with a small turning circle. Four extra wide whisper wheels guarantee excellent grip and the best driving experience. Like all BIG Bobby Cars, the Next version is fitted with a trailer coupling at the front and rear. A compartment underneath the bonnet is ideal for storing all those essential travel necessities and further enhances the awesome look.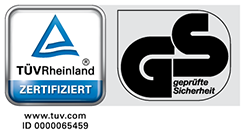 Dimensions assembled (L x W x H): 57 x 30 x 39 cm
Deluxe version of the BIG Bobby Car
New, luxurious product design with high-quality grille and opening bonnet
Speedometer with realistic optic and integrated contact sensor to swith the lights on/off
Double-headlamp with long-lasting LED-technology
Automatic power-off after 10 minutes
Batteries for LED-light (3 x 1,5 V, AA, LR06) not included
Handy steering wheel with electronic sound horn
Batteries for sound horn (2 x LR44) for demonstration purposes included
Detachable and washable seat with a velcro system for excellent sitting comfort
Red-colored high-quality whisper wheels
Trailer coupling on front and rear
Safety knee room for taller children
Maximum load: 50 kg
Electronic modules with water-resistant plastic housing
Frequently bought together
Frequently bought together