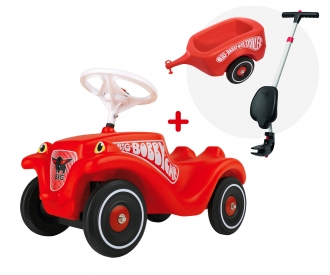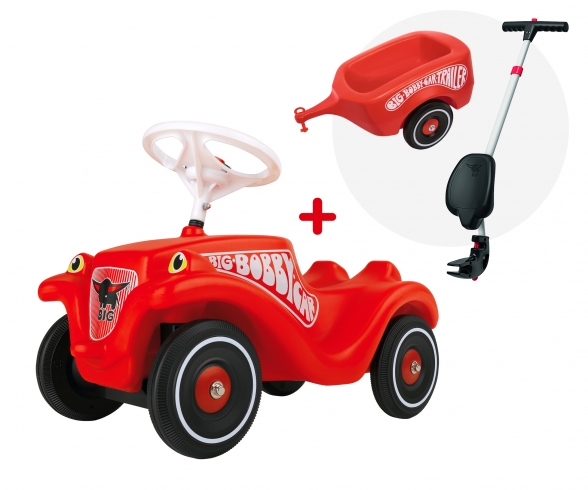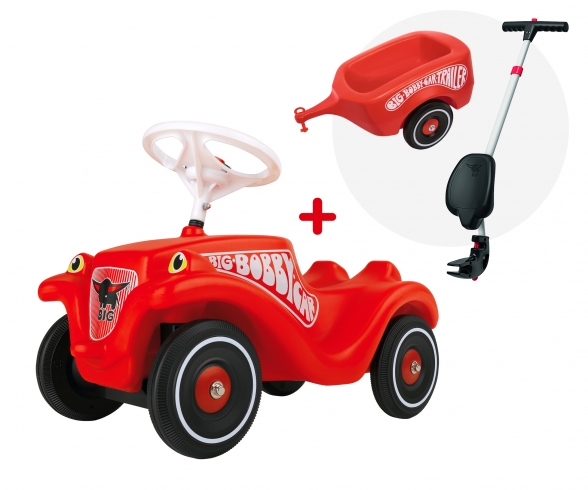 €134.97 (-34%)
€88.99
incl. VAT
free shipping
(within the EU)
Quantity:
1
2
3
4
5
6
7
8
9
10
11
12
13
14
15
16
17
18
19
20
21
22
23
24
25
26
27
Delivery time 1-3 working days within Germany
Product bundle consisting of: BIG Bobby Car Classic / BIG Bobby Car Trailer Red / BIG Multi Push Rod
Article number: 800001303
Product: BIG Bobby Car Classic

As a result of its outstanding quality and child-friendly design the BIG-Bobby-Car-Classic is the kid's favourite ride-on vehicle. The car body of this much-loved kid's car has been ergonomically designed to suit the needs of young drivers perfectly. An easy-grip steering wheel, four sturdy wheels, a trailer coupling both at the front and the back, as well as a knee recess for older children, make this classic model a real winner with tremendous play value.

The stepless Ackermann steering system enables the BIG-Bobby-Car to have a small turning circle. The outstanding quality of manufacture and low centre of gravity make the BIG-Bobby-Car a particularly safe toy vehicle.

Awards: Öko Test sehr gut, spiel gut, Superbrands Germany, Mommy Award
Article number: 800001300
Product: BIG Bobby Car Trailer Red

Kids will enjoy hours of playtime fun with the BIG-Bobby-Car-Trailer - the great accessory for all BIG-Bobby-Cars. On the inside of the robust trailer there is plenty of room for all those important items that the young driver requires. Rounded corners and edges ensure safe playtime fun. The sturdy trailer can be easily attached to all BIG-Bobby-Cars using the safety coupling pin supplied.
Article number: 800056443
Product: BIG Multi Push Rod

With the multifunctional BIG Multi push rod, the little ones' driving fun can be supported by adults and, if necessary, steered in the right direction. All it takes is a short push on the handle and the little racer's course can be safely determined or corrected. The supplied adapter allows the steering wheel to be locked, so that only the adult steers at the push rod.

When the little feet of the BIG Bobby Car drivers get tired, the BIG multi push bar is also suitable as a pushing aid. The integrated backrest offers children additional support and with the help of the new ergonomic handle, two-handed steering is also possible. This not only makes driving easier for the little ones, but also makes it more comfortable for the adults.

The easy-to-use telescopic handlebar is 4-way height adjustable (from 88 cm - 107.5 cm) and can be moved into the transport position for space-saving transport. Assembly is very easy with a coupling pin already fixed to the push rod.

The BIG multi push rod fits all BIG Bobby Car models from model year 2012 onwards, including Classic, NEXT and Neo.
BIG- buffalo strong!
Article number: 800001303
Product: BIG Bobby Car Classic
Dimensions assembled (L x W x H): 58 x 30 x 38 cm
dimensions: 58 x 30 x 38 cm
load-bearing capacity: 50 kg
Article number: 800001300
Product: BIG Bobby Car Trailer Red
Dimensions assembled (L x W x H): 50 x 24 x 29 cm
dimensions: 50 x 29 x 24 cm
load-bearing capacity: 25 kg
Article number: 800056443
Product: BIG Multi Push Rod
Dimensions assembled (L x W x H): 24,5 x 19 x 90,5 cm