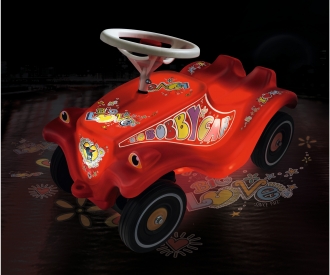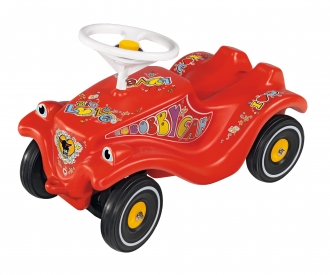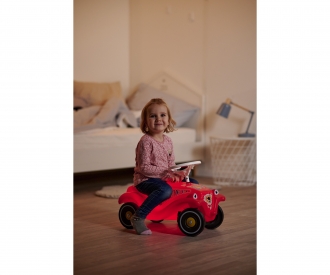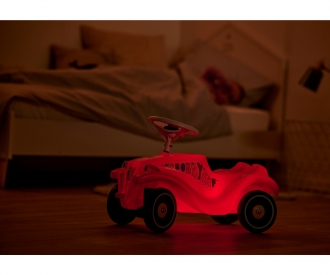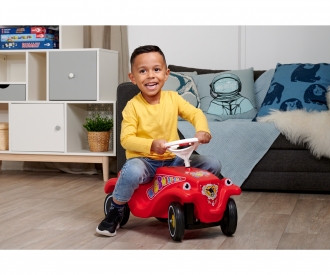 Quantity:
1
2
3
4
5
6
7
8
9
10
11
12
13
14
15
16
17
18
19
20
21
22
23
24
25
26
27
28
29
30
Delivery time 1-3 working days within Germany
The BIG Bobby-Car Classic is celebrating a milestone birthday! In 1972, the iconic red slide car was presented for the first time at the Toy Fair and, many successful years later, cracks the 50-year mark in 2022. On this special occasion, it's not just the candles on the birthday cake that are shining, because the new BIG Bobby-Car Lumi is shining for itself. True to the motto: slide car by day, protective light by night.
The light in the BIG Bobby Car body is activated on the underside and can be switched to four different modes: Light On (continuous illumination), Flashing (continuous flashing), Auto-Off (light on and automatically turns off after 10 minutes) and Light Off.
But it's not just the light function that makes the new Lumi model something very special; the popular design from the 70s also earns plenty of stares from other road users. At the same time, the needs of little drivers are not left behind in this model: the shape of the popular BIG Bobby-Car Classic remains unchanged, of course, and the body and steering wheel of the popular children's car are perfectly ergonomically designed for kids, and there is also a knee mould for older children.
To ensure that nighttime rides don't disturb local residents, the BIG-Bobby-Car Lumi even comes with the whisper wheels beloved by parents as standard.
The BIG-Bobby-Car Lumi: as usual sturdy, strong as a buffalo and Made in Germany!
Dimensions assembled (L x W x H): 58 x 30 x 38 cm
Frequently bought together
Frequently bought together